Ciro Biondi
Trecastagni Mount Etna Sicilia Italia
Spanning just five hectares, the Ciro Biondi winery is relatively new, having been founded in 1999. Ciro Biondi's ancestors bottled wine under the Biondi name more than a century ago with an assortment of vineyard holdings passed down through the generations.
Ciro, an architect, renovated an old stone winery structure in one of the three small, lovingly restored vineyards he owns in and around the village of Trecastagni.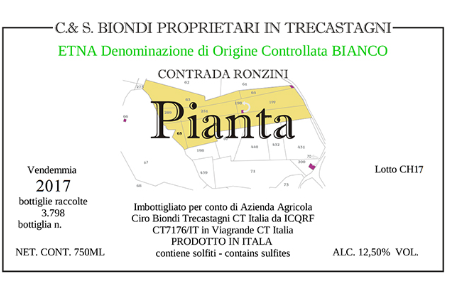 All three sites sit at altitudes ranging from 600-700 meters, with east/southeast expositions and soils comprised mainly of Etna's black, mineral-rich volcanic pumice.
Vines are trained in the traditional alberello, or "bush," method: they look like miniature orchards, which in fact they are.
The Biondi winery is a source of impeccable whites and reds alike, indeed the Southern face of Etna produces wines with more elegance and finesse then the Northern face that produces those that are more robust and powerful.
Biondi's white wines come from Etna's native Carricante grape, which continues to grow in esteem among wine lovers and comprises 90% of the blend supported by Catarratto, Malvasia, and Minella.
ETNA BIANCO 'CHIANTA' (Pianta)
Grape Varieties: Carricante 90%, Minella/Malvasia/Catarrati/Moscatello 10%
Production Zone: South East Mt. Etna, Trecastagni.
Vineyard Details: 2,5 hectares in Contrada Ronzini. Name of the vineyard "Chianta". Owned by the Biondi family since at least 1800. The name "Chianta" means to plant in Sicilian dialect. The vineyard lies on the side of a steep terraced crater, dating back thousands years. The supporting dry stone walls were built by Cirino Biondi, Ciro's grandfather.
Average age of vines in production: 45 years
Exposure: East exposure. Mountain Side, with notable contrast in night and day temperatures
Altitude: 2,300 feet (700 mt) above sea level
Training method: Alberello (bush training)
Vine density: 8,000 vines/hectare (very high)
Average yield: 1.75 tons/acre (4/5000 kg/H)
Soil: Sandy, volcanic, rich in minerals with low pH
Agriculture: Organic fertilizers used, with three treatments of sulfur and copper from May to August.
Wine-making: Pruning with the waning moon, manual harvest. Grapes are typically harvested in October, selected and placed in small cases to be transported whole to the winery where they were destemmed and left at a temperature of below 9°C in stainless steel vats for 24 hours. After pressing and clarification, the fermentation takes place at a temperature of 18*C in used barrels of 225 liters for at least 2 weeks, Batonnage weekly for 8 months, bottled the following June.
Number of bottles produced: 2.200 of 0,75l
Aging potential: best after 2 - 4years