Enchanted by the Most Famous Wine Auction in the World: Hospices de Beaune
Until spring 2019, I had never heard of the Hospices de Beaune charity wine auction. It was only in late 2018 that I began my formal wine education with the Court of Master Sommeliers Intro to Sommelier course. Listening to Levi Dalton's I'll Drink to That! Podcast number 472 "Anthony Hanson Washed Burgundy's Dirty Laundry", Anthony tells the story of his first tasting at the Hospices de Beaune. I was hooked. Of course, I wanted to go and taste the wines, but I never dreamed of bidding on a barrel of wine at the auction.
Enter Greg Fulchiero, our mentor in wine education and now a Certified Advanced Sommelier in the Court of Master Sommeliers.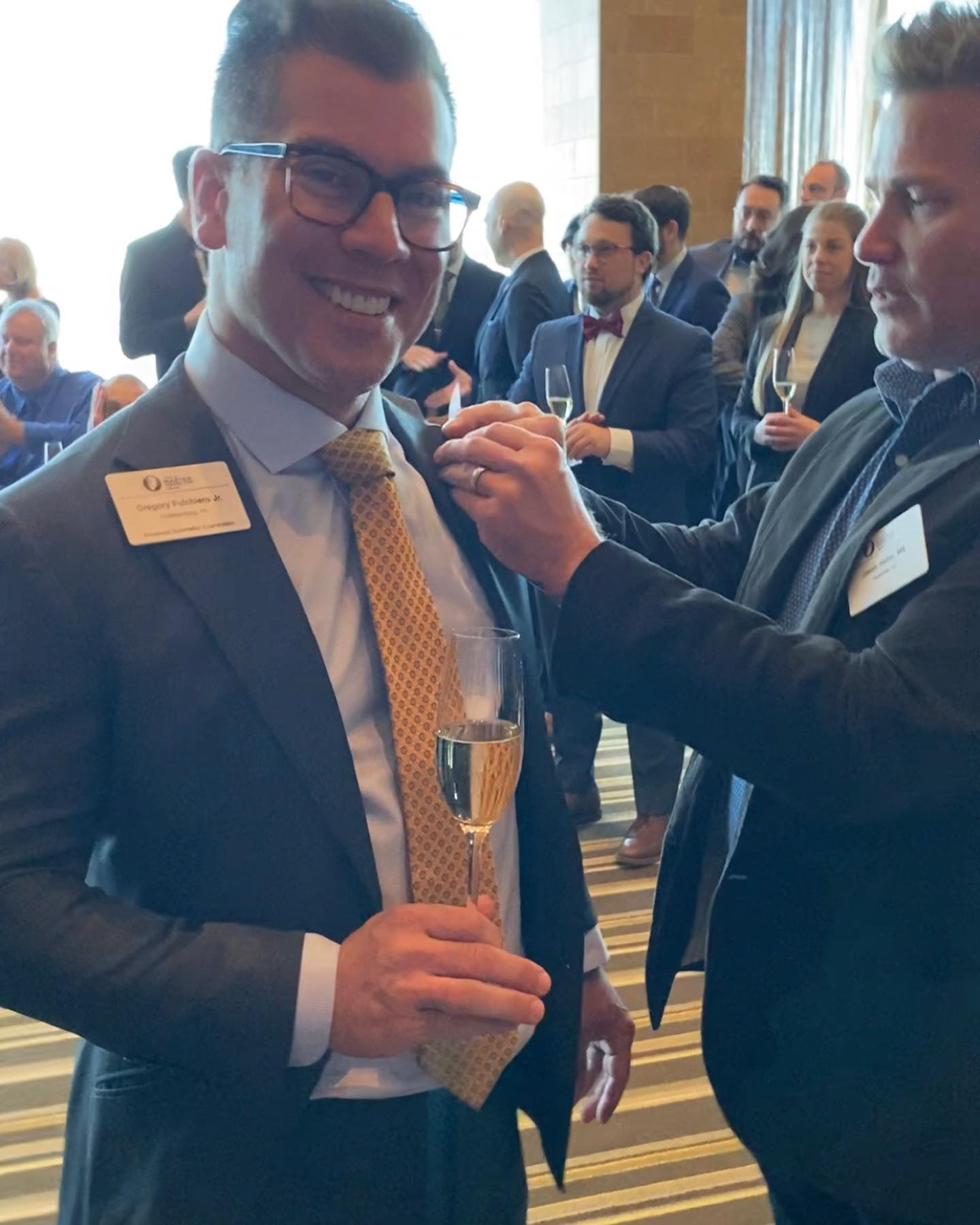 Greg sent out a text message to a group of us and said I'm going to bid on a barrel who wants to go in on it with me. This began the formation of the Barrel Gang, a text group of investors specifically interested in acquiring a barrel of burgundy wine. Greg sent us the catalog and Jasper Morris' tasting notes. We all gave our input but ultimately, Greg was the one bidding on November 17, 2019. I watched the auction on my laptop, streaming live, and the text messages flying between Greg and Eliot Fagley, a member of the Barrel Gang, on my way to a conference in Las Vegas.
This was the 159th year and Christie's was organizing the auction. Greg won the bid on Lot 159 Volnay Premier Cru Cuvée Blondeau. I still had a lot to learn about Burgundy and the Hospices.
The Hospices de Beaune was founded in 1443 by Nicolas Rolin, Chancellor to Phillipe Le Bon, Duke of Burgundy, along with his wife, Guigone de Salins. This could very well be the first example of philanthropic care for the ill and poor, anywhere. Despite the generosity of the Dukes, outside funding became necessary and this was often in the form of gifts of buildings and land, ie., vineyards. Over centuries these donations have made the Hospices de Beaune one of the most important vineyard owners in Burgundy.
The next couple of weeks after winning a bid is hectic with paying for the bid, the auctioneers fees and in recent years, the actual new oak barrel, plus you get to select the winemaker to handle the élevage of the wine. Élevage is a french term referring to the handling of the wine as it matures in the barrel until it is bottled. There are numerous techniques a winemaker can choose to do with the wine during this period of approximately 18-24 months, and to list and explain all of those is another article.
As Greg reviewed the list provided to him from Christie's, the name Domaine Michel Lafarge jumped off the page. The Lafarge family have been vignerons in Volnay since the 18th Century and were one of the first small estates to begin bottling and selling their own wines in the early 1900's. They are truly Volnay royalty in our eyes, especially after learning that Michel had been the third generation Lafarge to be Mayor of Volnay. The Barrel Gang was extremely excited when they accepted the barrel for élevage.
I was so excited to taste this wine, I reached out to the Lafarge family, booked a flight, and headed off to Volnay the first week of December 2019. Frédéric, Michel's son, and his wife, Chantal, graciously invited me to the winery for a tasting. I listened to Levi Dalton's podcasts with both Michel and Frédéric, while on the plane. Frédéric joined his father in the winery in 1978. He and Chantal manage together and have also created Lafarge-Vial in Beaujolais. In 2018, Michel's granddaughter, Clothilde, joined the winery to continue the family tradition.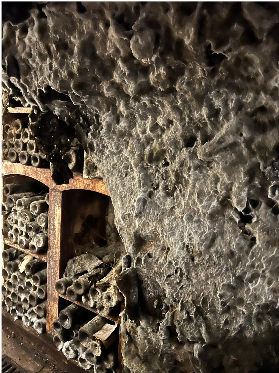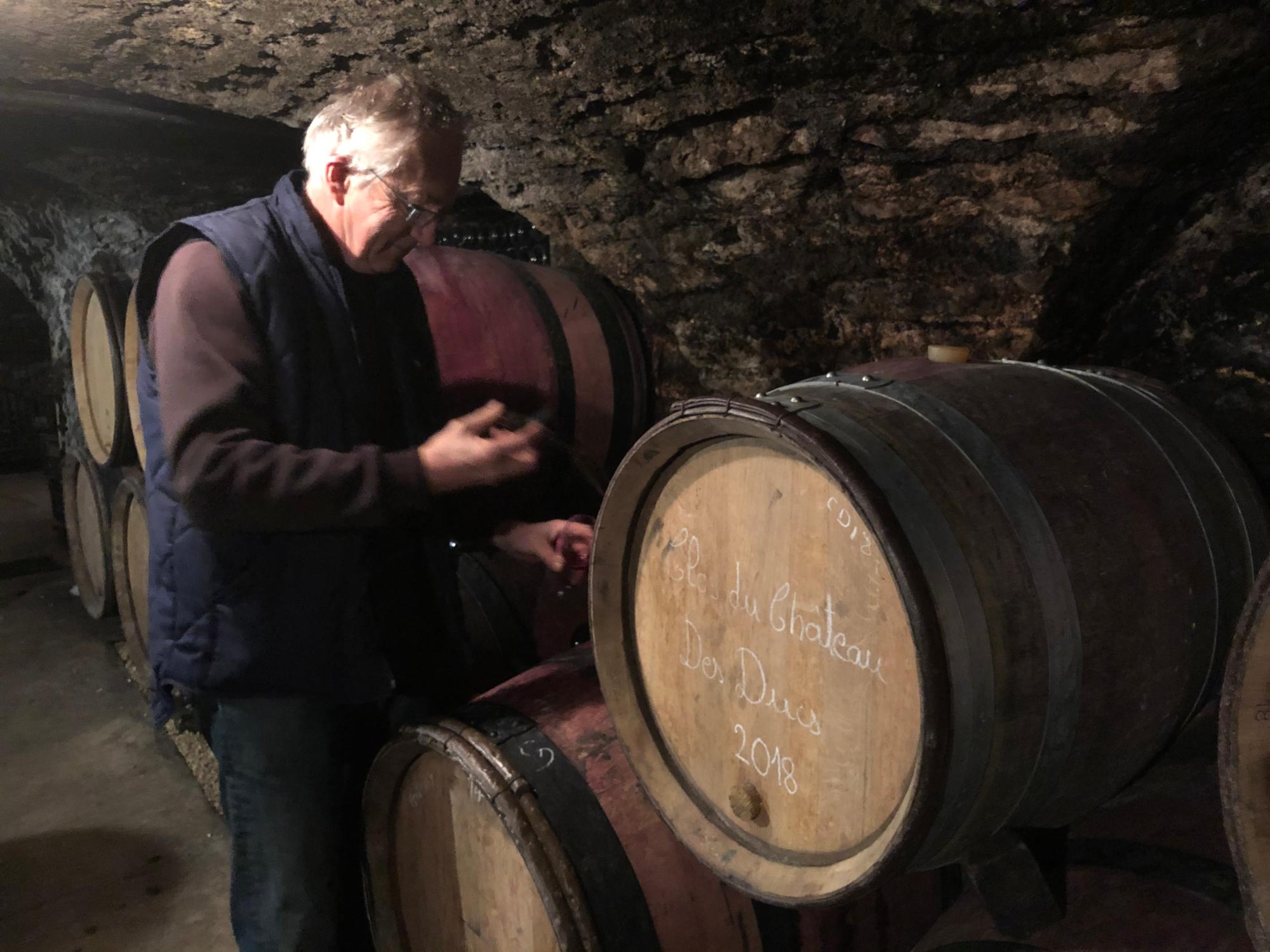 Tasting the wines right out of the barrels and seeing wine dating back to the 1930s in a cellar covered in mold with Frédéric is a memory I will cherish forever.
In the spring of 2021, Greg made the arrangements with Chantal Lafarge for the bottling and labeling of our wine, Chemin de la Reine. I jumped in to coordinate the shipping and importing along with wines from several of our new Burgundy vignerons, Domaine Michel Arcelain in Pommard and Domaine Aurélie Berthod in Pernand Vergelesses.
We couldn't wait to sample this wine even though it
is very young and can probably age and drink beautifully for the next 30 years. It is a stunning with a powerful crimson color, rich ripe raspberry notes, vanilla, and sweet baking spices. The palate is silky smooth with mouthwatering acidity and a long, elegant finish. We really did win at the auction.
I had booked another trip back to Beaune for November 2021 to visit with our vignerons and attend Les Sarmentelles in Beaujeu, which is a fantastic festival occurring on the third Wednesday in November. After a fantastic dinner served by renowned chefs and an animated stage show, there is a procession to the town square where upon the town clock chiming in midnight, the barrels are tapped, and everyone gets to taste the Beaujolais Nouveau. We were in Beaune on Tuesday and the town was already getting setup for the Vente de Vins (Sale of Wines) at the Hospices de Beaune when we took the museum tour.
We flew home on Saturday, texted the Barrel Gang and proceeded to watch the 161st auction online, now being organized by Sotheby's, hoping to acquire another barrel. I should not have been shocked when we couldn't even place a bid as the prices skyrocketed. There were only 349 barrels of wine available to the 589 barrels on offer in 2019. In addition, our own vignerons had told me about the terrible frost destroying much of their crops in April.
We made plans to meet with our vignerons and the Lafarge's on Friday. We met with Chantal, Frédéric and Clothilde. They provided us with their tasting notes and barrel recommendations. Frédéric also gave us a tour of the cellar and vineyard.
Les Trois Glorieuses, three glorious days, is always the weekend of the third Sunday in November. Wine professionals, connoisseurs and collectors gather in Beaune for this enchanting Burgundian tradition.
For the 162nd auction, I decided I wanted to go back to Beaune for the whole experience and I wanted my business partners to join me for this experience. I registered with Sotheby's and arranged for us to arrive in Beaune by Thursday evening.
We learned Clothilde's brother, Maxime-Henri, was working as an Assistant Winemaker for Régisseur Ludivine Griveau at the Hospices de Beaune this year. Chantal told us to look for him when we went to the tasting on Saturday. We also learned, our Pommard vigneron, Pierre Arcelain had worked with Domaine Michel Lafarge for his formal internship before completing school.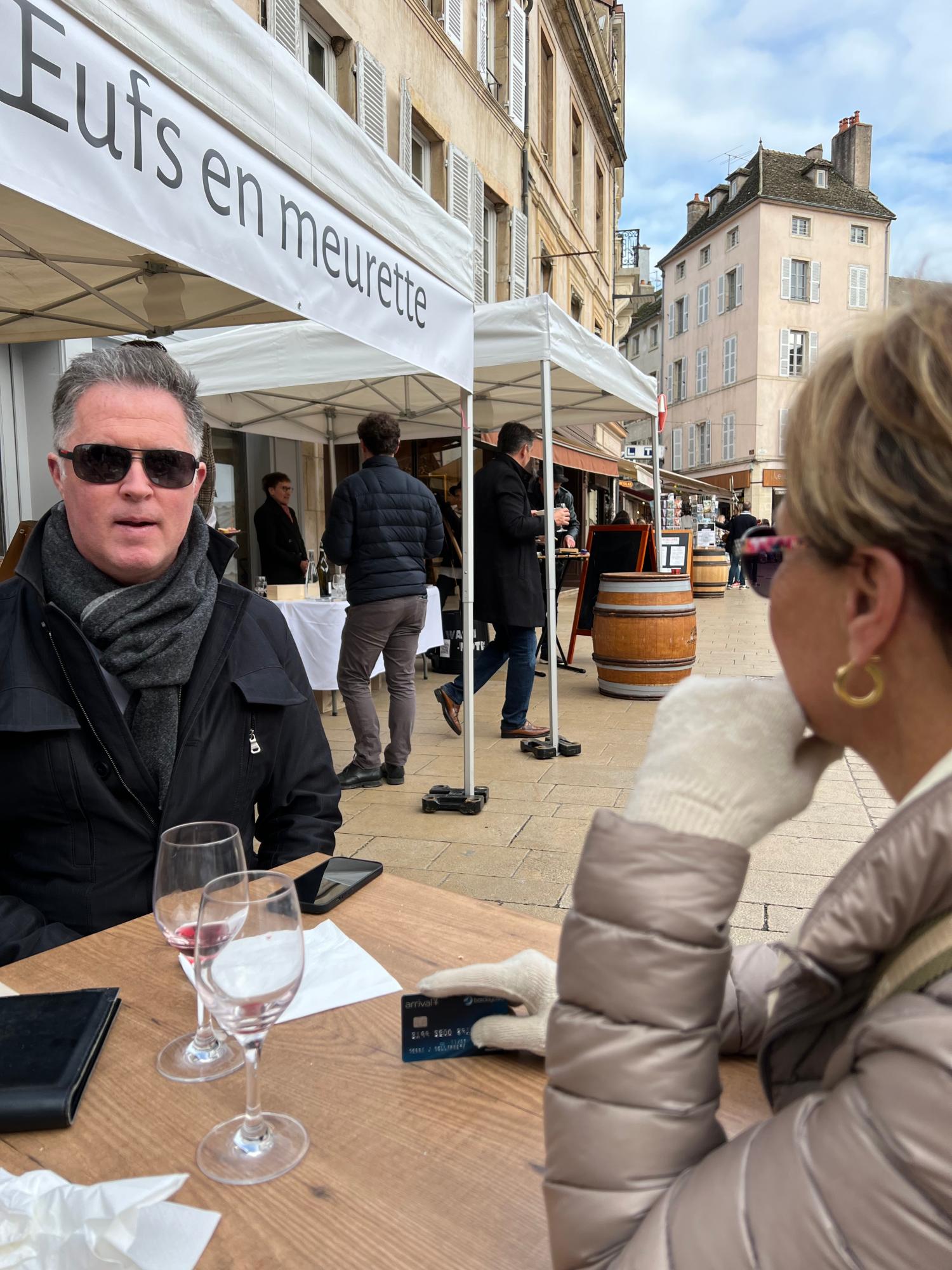 On Saturday, (really Friday evening), the streets of Beaune are filled with musicians, parades and vendors offering gourmet samplings of cheese, meats, escargot, oeuf en meurette (poached eggs in a red wine sauce) and vin chaud (hot mulled wine). Many cellars and wine shops open their doors and offer wine tastings and tours for a nominal fee. It is an incredibly festive event and there is even a half marathon. The Hospices de Beaune offers the tasting to registered bidders in the Hôtel-Dieu.
At the tasting we met Jasper Morris, MW (Master of Wine), who has been writing the tasting notes for the auctions since 2016. His book and website, Inside Burgundy, is the most comprehensive and detailed resource on any wine region. We saw Ludivine Griveau, the General Manager and Winemaker for the Hospices de Beaune, and Maxime-Henri, but as they were very busy, we did not get to speak with them.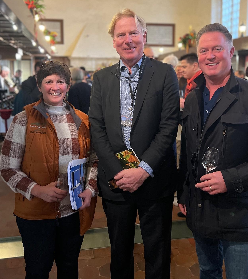 It was very exciting to taste the wines and to take notes, especially on the ones we were most interested in acquiring. 2022 was a great vintage with 802 barrels of wine available. 620 barrels of red wine, all Pinot Noir, and 182 barrels of white, all Chardonnay. This is what is
so incredible about studying Burgundy. Two grapes over 148 acres of vineyards stretching from as far north as Chablis to the south in Pouilly (229 Km). Each of these vineyards with their different soil types and wonderful terroirs, produce excitingly different, delicious
expressions. The Beaune Premier Cru Les Greves tasted completely different than the Pommard Premier Cru Les Epenots, yet both are 100% Pinot Noir. After our tasting, we felt very prepared for the auction the next day. We had done all our research.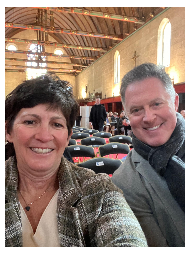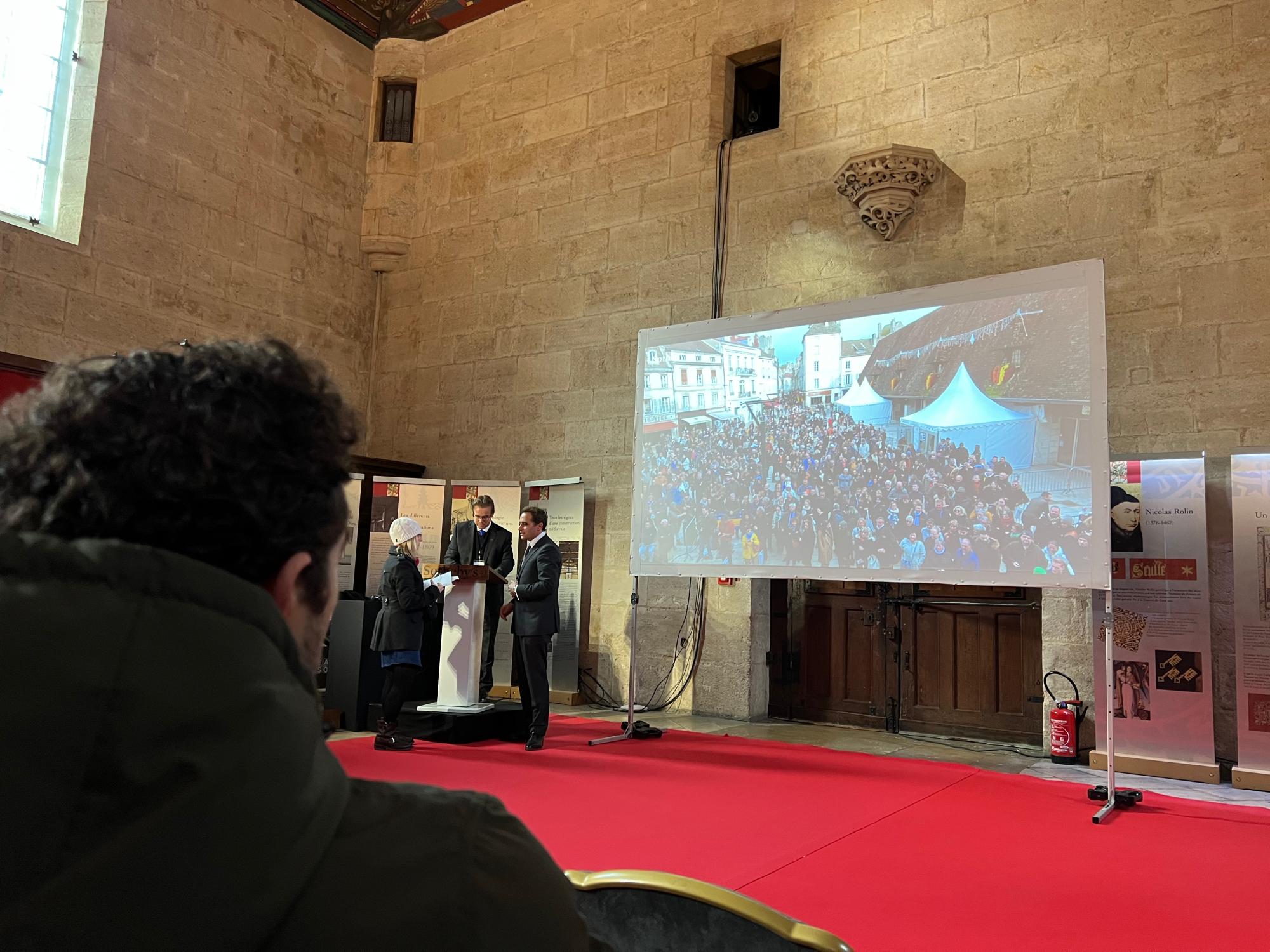 We learned there are many regular bidders who attend the auction and there is not enough room in the great hall for everyone. We were seated in the Salle des Pôvres, which is also part of the museum tour and is a grand hall with hospital beds on each side of the room. It became apparent immediately this was going to be a record-breaking year for the auction. Bids were exceeding pre-sale estimates at more the double the high estimate. We couldn't believe it when a wine we tasted the day before with a pre-sales estimate of
85,000 – 140, 000 euros, sold for 216,000 euros. The gentleman next to us laughed and said, "Can you believe we tasted this wine yesterday". He also informed us that many of the industry wine reviews had proclaimed this the best vintage at the Hospice. The President's Barrel went for a record 810,000 euros. We knew we were in trouble. We immediately started texting the Barrel Gang to see if we could increase our bidding cap. Everyone agreed and unbelievably, we won Lot 277 Volnay Premier Cru Les Santenots, Cuvée Jéhan de Massol 2022. This was the barrel the Lafarge's told us was the very best.
The connection with the Lafarge Family, Volnay and the Hospices continues to make this story even more incredible for us. Being able to contribute towards the renovation and upkeep of the hospital and museum is a very special component. We also learned Maxime-Henri and Clothilde's great-great grandfather, Henri Lafarge served as Régisseur of the Hospices de Beaune from 1950 to 1965. This is a family who has given back and contributed to make their community better for generations. When Chantal wrote to agree to the élevage for this barrel, she informed us that Maxime-Henri will now be working at Domaine Michel Lafarge. From harvest to bottling, having this family care for this wine means it will be an absolute stunner.
If you are interested in participating in the Barrel Gang, you can sign up for one to two cases, depending on availability, En Primeur. En Primeur or wine futures, is a method of purchasing wines early while the wine is still in barrel. Payment is made at the start, at least 18 months prior to the official release of the vintage, bottling, labeling, and shipping. By the time the wine is bottled, it will typically increase in value by 30%. For great vintages, these wines can double or triple in value by the time they reach 10 years of age.